Happy Saturday, scrappers! If you are participating in the
Trixie Scraps Blog Hop
, then you arrived here from
Stacey's blog
, and at the end of this post, I'll send you on your way to Shauna's spot on the web. So here we go!
All of the Scrap Stars that you are visiting have created a freebie for you with Trixie's Summer on the Boardwalk collection. Here's a look at the kit...I'm really looking forward to visiting Galveston's Pleasure Pier later this year...this kit will be just perfect for scrapping that trip!
If you want all of the extras, you can also check out the full collection. Personally, I think Trixie is the Queen of Cardstock and so the collections are always worth it IMO.
I created a QP based on a layout that I did of my daughter's first time at the beach...her Daddy plopped her down in the water while she was wearing a Hilo Hattie outfit and diaper...and I'll admit I kind of freaked on him. In my mind, she needed her swimsuit...and I didn't want her outfit ruined by the seawater. LOL. Not to mention that we couldn't get into our hotel room for an hour, and I was afraid she'd catch a cold. First-time mommy nerves, I suppose! Anyways, enough blabbering from me! Here's my page:
I may be biased, but I love that photo of her little tongue sticking out!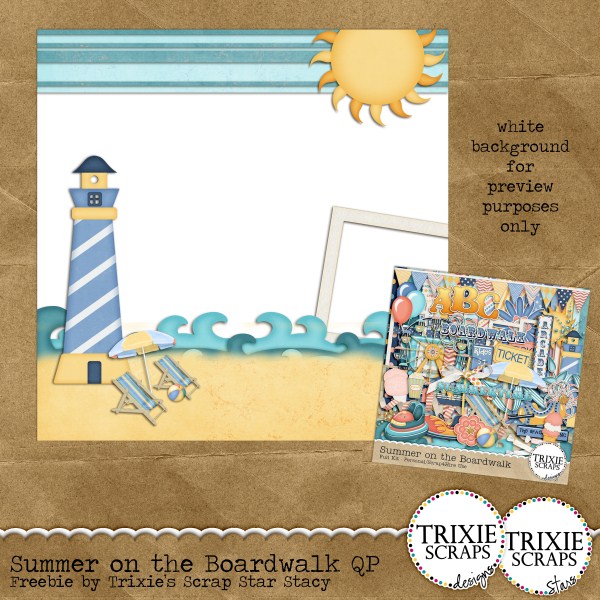 You can download the QP
here
. And now you're off to
Shauna's World
! Don't forget, if you get lost along the way, or if you joined the Blog Hop late, you can head back to
Trixie's
to get back on track. Happy scrapping, everyone!