Yes, school is out, and life is busy! School was out less than two weeks ago, and we've yet to have a quiet day at home.
Today we started Vacation Bible School at our church. Once VBS is over on Friday, we plan on spending the summer learning, playing, and exploring. We've got weekly playdates with a photographer friend and her 3 kids. While our kiddos play, she's going to teach me how to use my new camera...YAY!
We're planning a weekly cooking lesson and crafting activity. We've also signed up for free bowling, and checked into roller skating. I'm really looking forward to that...Rachel has never been skating, and I haven't been since I was a teenager. We'll probably spend some mornings at the sprayground as well, and I'm hoping to get Miss R signed up for swim lessons.
As far as a vacation goes, I think that is out of the question for us this summer. It looks like our budget will be pretty tight, but that's okay; we can manage here at home. And perhaps we can look forward to a trip next spring instead.
We've had some big events in our family lately...time to share!
Rachel's baptism was such a special moment. Every time we have a baptism service at church, there seems to be one child who is very vehement in her words. When Pastor Sam asked Rachel if she had asked Jesus into her heart, she shouted, "YES!" She made sure that even the people in the balcony heard her...she was so excited and just couldn't contain herself. When she came up out of the water, she said, "Mommy, that was fun...I want to do it again!" Some layouts of the big day...
The event itself, using
Day of Grace
and Star Struck Vol. 13: Laina by Trixie Scraps
After the service, scrapped using several kits:
Every Day with You
and
Love of a Lifetime
by Trixie Scraps; Garden Botanicals by Julie Billingsley; and It's Elementary by Dani Mogstad. I've never been all that good at mixing kits, but these all worked together wonderfully. The template is from Jeanye Labaya's Ratatouille pack that was part of the Digi Files a few months ago.
As a present that weekend, her Daddy and I bought her a Bible, which I still need to scrap. And her NiNi brought her two presents...one for her baptism, and one an early kindergarten graduation present. I did scrap this particular gift, as she was very excited about it, and the pictures were too cute (in mommy's biased opinion anyway). So here is Rachel with Kelly and Kelly's new wheelchair, crutches, casts, scrubs, and accessories! This was scrapped with
Siblings are Forever
and
Large and In Charge Vol. 2
by Trixie Scraps.
And about that kindergarten graduation...of course I've started scrapping it. But to be honest, Rachel's school doesn't have a kindergarten graduation. No diplomas, no ceremony, nothing. But I really really wanted to do pictures...so I ordered a cap & gown from Josten's. They are pretty cheap (you can get them from about $13 on up), and the photos turned out so cute! So far I've only scrapped one, and I used Lil Grad Vol. 2 by Melissa Bennett.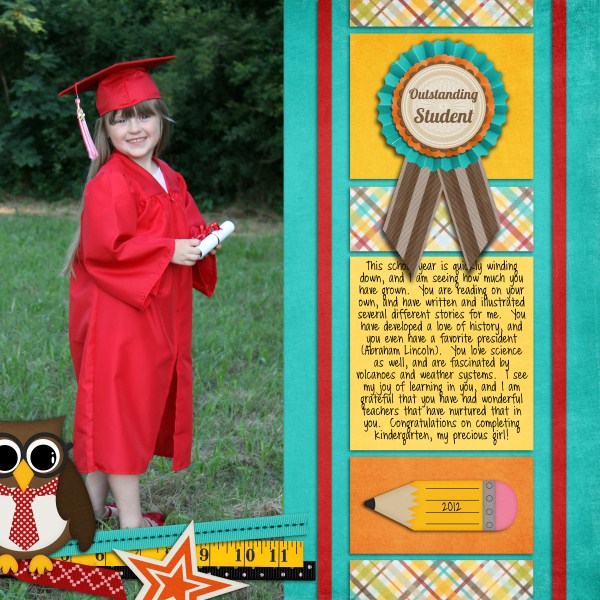 I've got quite a few more grad pics to scrap, and now I've also got dance recital photos to work with. I'm sure I'll be spending some time this summer working with them. I'm hoping that Ms. Trixie Scraps has bright lime green in her future, because that was the color of Rachel's leotard this year!
With that, I'm off to walk the dog and then watch the Thunder-Spurs game...Thunder UP!!!