When it's hot outside (like it generally is here at this time of year), I love a cold glass of lemonade. Personally, Chick-Fil-A is my favorite, but now they have some competition, in the form of my daughter. LOL. Rachel came out of her room yesterday announcing that she had an idea for a lemonade stand, and so off we went to the kitchen to mix up a small pitcher.
Now, she didn't set up shop on the sidewalk...she sold the lemonade in the living room. Suffice it to say, she only had two customers, but we did give her repeat business. And upon NiNi's request, I had Rachel share her recipe, and decided to scrap it for myself.
I used Kristin Cronin-Barrow's Freshly Squeezed; I ran a sepia filter on the photo and then did some customizing on the color.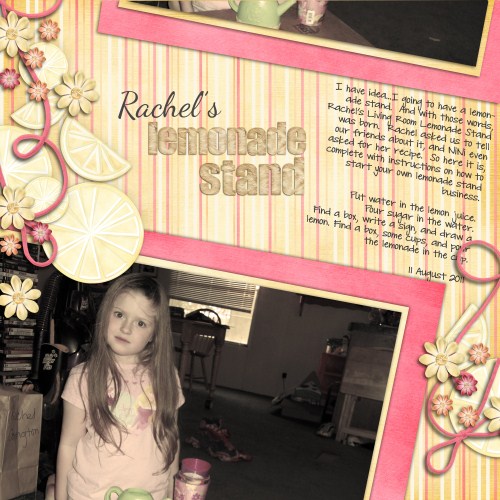 I will definitely be back next week...Little Missymeets her teacher, goes back to dance, and starts kindergarten...I will be taking lots of photos!