Are you counting down the days until autumn arrives? I know I am! We are having another 100+ temperature day here in the heartland, and I'll be honest when I say I am getting really tired of it! There are so many things I'd love to do with Rachel this summer, but it's just too hot to do them. Our zoo pass is burning a hole in my purse!
But oh well, we are managing to find some free indoor activities...and in just three more weeks...my girl will be starting kindergarten! I am seriously tickled about this! We've been picking up school supplies (who doesn't love a brand new box of Crayolas?), and hopefully we'll hit the outlet mall next week for a back-to-school outfit. The Outlet Shoppes here in OKC will officially open on August 5, and we'll definitely be checking out the Disney Store Outlet! Between that and The Children's Place outlet, I'm hoping we can find a cute and affordable outfit for her.
Last month saw the end of Rachel's first t-ball season. The Butterflies didn't win most of their games, but they played hard and I think it was a great experience for all of the girls. They received trophies at an awards ceremony a few weeks ago, and it was great to see their beaming smiles! Sadly, my dear little camera was ruined at our very first t-ball practice...it's been so dry that the field was just dirt...and the wind blew so hard that it totally mucked up my camera. The lens will no longer extend out of the body, so there's no taking pictures with it. I was intending to take it to a camera shop for repairs (if it can even be fixed), but that same day, my hubby was hospitalized and has been on disability ever since. Obviously camera repairs aren't on the top of my priority list. For now, I'm using his cheapo (actually freebie) Kodak P&S. I'm hoping that once he gets back to work, we can get my camera fixed.
I'm going to end this post with a few layouts...I haven't done a lot of scrapping this summer, but I love the pages that I have gotten done. And who knows...I might get on a big scrapping binge once school starts!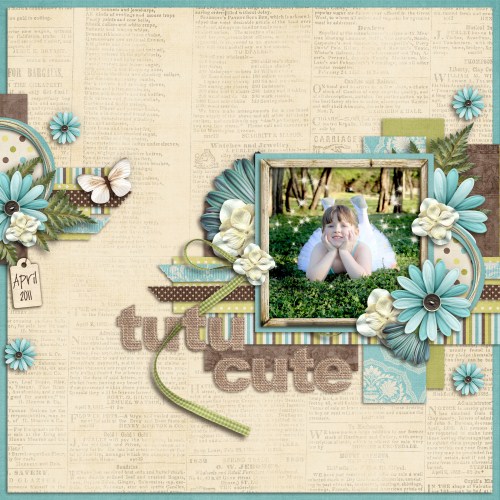 *using Great Escape by Kristin Cronin-Barrow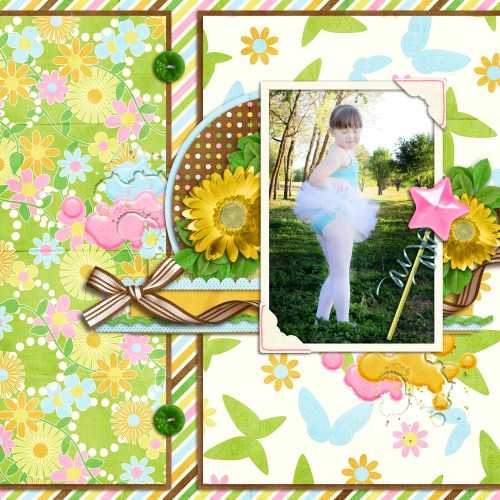 *using I DO Believe in Fairies by Traci Reed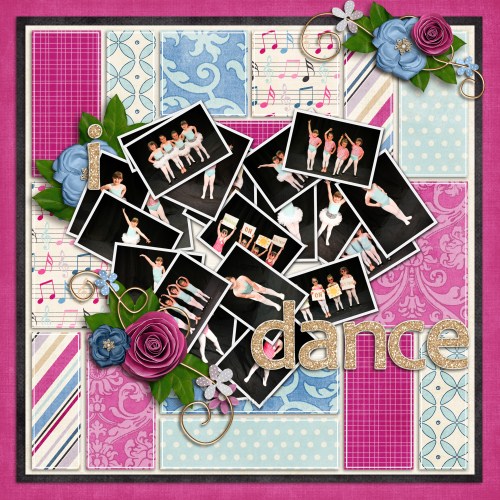 *using Beautiful Tonight by Julie Billingsley and Jady Day Studio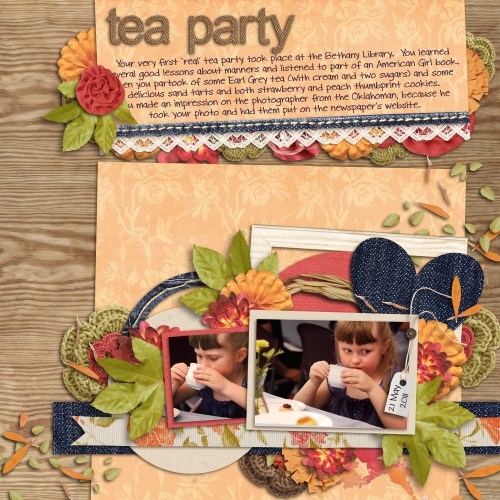 *using Boho Chic by Kristin Cronin-Barrow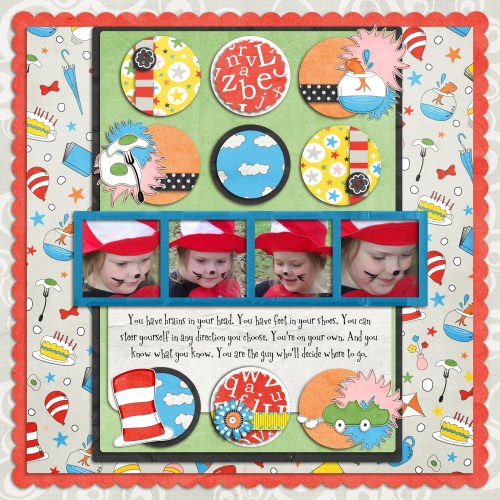 *using On the Loose by Dani Mogstad and Shawna Clingerman
*using Summer Lovin' by Trixie Scraps
*using Riding with Girls by Trixie Scraps
*using All About Me: The Littles by Trixie Scraps
*using Fishy Friends by Trixie Scraps
*using Softball Stars by Trixie Scraps
*using Summer Lovin' by Trixie Scraps
*using Saffron Blues by Trixie Scraps and Bella Gypsy; A Mother's Love by Trixie Scraps and Litabells Designs; and Spring in the Meadow by Trixie Scraps ( I rarely combine kits so I was very pleased with how this one came together)
I still need to scrap photos of t-ball awards and the team pool party, as well as some early morning trips to the park. It's my goal to be caught up before school starts, because I'm sure I'll be taking lots of photos then, as well as doing my volunteer work. So with that, I'm off, friends! God blessings to you, and enjoy each and every day!